Competition to name the Hamefarin Galley
18 May 2010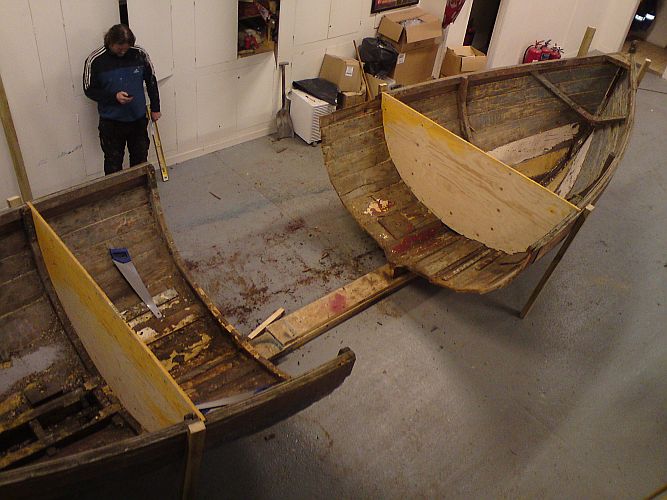 Work begins by cutting the boat in half

With the Hamefarin fast approaching, the Up Helly Aa committee have been busy building a galley ready for the Viking Parade, which will take place on Saturday 26 June.
The Up Helly Aa committee faced a huge challenge as the Hamefarin galley would be a completely different design to what is usually seen on the last Tuesday of January each year. For a start it would have to be watertight for it's burning on the water. It has proved to be a long and sometimes complicated extra task this year for the committee members and volunteers.
After long deliberation, the committee decided the best way forward was to adapt an old boat into the galley rather than start from scratch. It wasn't until early this year a boat was sourced from Lerwick man Danny Arthur and transported to the Galley Shed for work to commence.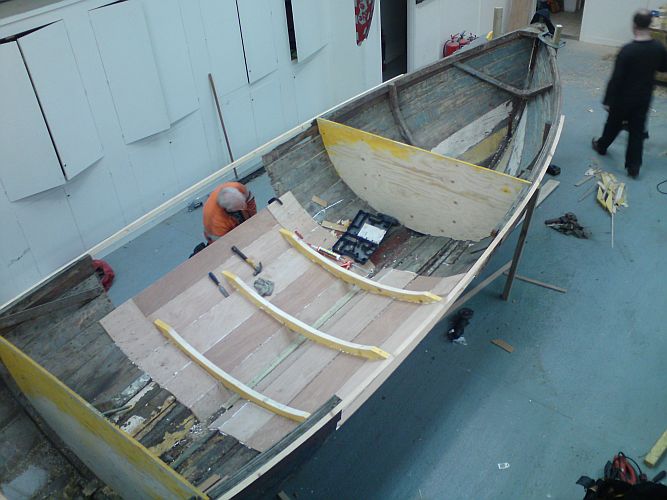 Nearly all the new boards are on

The committee members, aided by Erik Moncrieff and overseen by retired boat builders Jack Duncan and Robbie Tait, set to work by stripping down the boat ready for its transformation. However, quite quickly it was agreed the boat would need more length in order to look the part. This meant only one thing: cutting the boat in two! Around seven foot was added to the middle and was a big improvement. Next, the boat-come-galley was turned upside down and repairs made to make it watertight. More recently, the front and back have been redesigned ready for the final touches.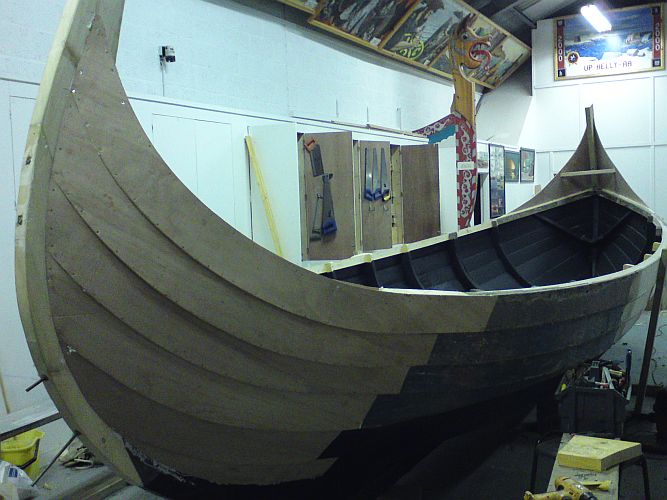 ...things begin to take shape

The next stage will be for the head and tail to be made and fitted – the head being made by Ex-Jarl Roy Leask and tail by this year's Guizer Jarl Rae Simpson. Decks will be fitted and, of course, a mast, shields and oars. The painters will then get to work and the galley will be ready for what is sure to be a really special occasion.
Competition to name the galley
The Shetland Hamefarin 2010 organising committee and Up Helly Aa committee are running a competition to name the special Hamefarin galley.
The winner of the competition will receive the nameplate from the galley, which is traditionally removed just before burning, and may also get the chance to throw the first burning torch into the galley.
Sorry, the competition is now closed. Details of the winning entry will be announced soon.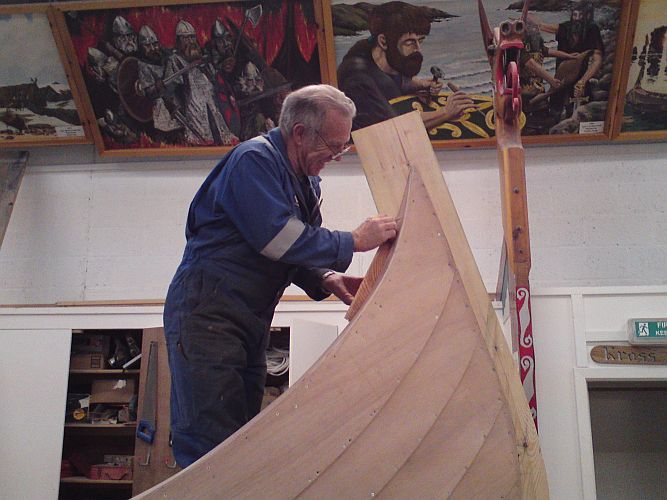 Retired boat builder, Robbie Tait, fitting the forad honeyspot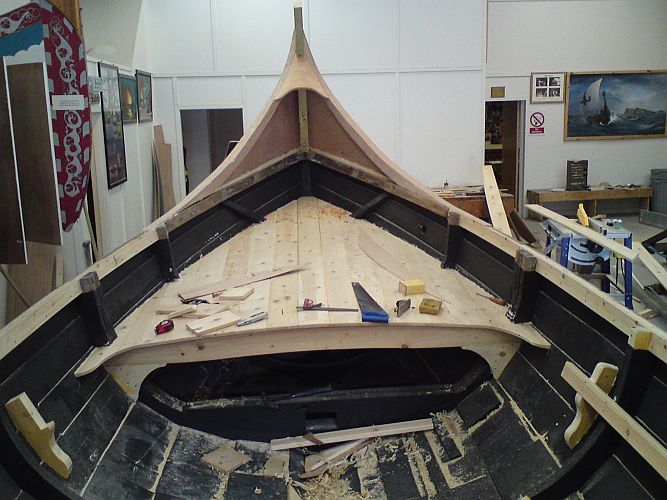 This year's Guizer Jarl Rae Simpson, completes the forad deck