Hamefarin Quilt
7 October 2008
The Hamefarin Quilt will be launched at the Town Hall on Thursday 9th October 2008 by Sandy Cluness, Convener of Shetland Islands Council and Ann Hill, a keen quilter, who was born in Shetland and now lives in Dumfries.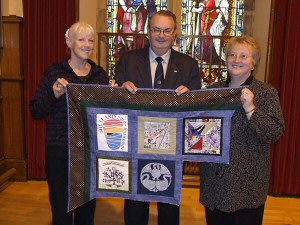 Ann is looking forward to coming home for the Hamefarin, which will take place in Shetland in June 2010. She came up with the idea of Hamefarers bringing something home to Shetland with them as a gift to the people of Shetland. The quilt has been started with blocks being provided by Ann and three other Shetland exiles: Aly Bain, Alan Beattie and Lesley Bloomer. They have each provided a quilt block depicting what Shetland means to them.
What we need now is for others to provide quilt blocks to allow Ann to finish the quilt in time for the Hamefarin. So if you know anyone who is coming home in June 2010 to take part in the celebrations please ask them to consider getting a square made for the Hamefarers quilt. They will be required to provide a block which is no larger than 10" square and should be made from 100% cotton fabric.
Ann Hill can be contacted on 01387 830638 or you can write to her at Mouswald House, Mouswald, Dumfries, DG1 4LT. Her email address is dmhill@btinternet.com. Ann's mother is Violet Laurenson of 39 Cairnfield Road, Lerwick and letters can also be passed on through her.
Ann said "I am so excited about bringing the quilt together. It will give us exiles the opportunity of giving something back to Shetland. Although I have been away from the islands for nearly 30 years I still consider myself very much a Shetlander and enjoy coming home as often as I can. I hope other exiles around the world will get behind this project and share their stories about what Shetland means to them".
Sandy said "This is the very kind of imaginative project that will help strengthen the links between Hamefarers and Shetland as we prepare for the celebrations in 2010. I am grateful to Ann for devising the project and I would encourage others with similar ideas to celebrate the Hamefarin to get in touch with us."
Click here to see examples of quilt blocks that have already been made [PDF document' 800Kb].