Hamefarin Quilt Gathers Momentum
28 October 2009
The Hamefarin Quilt project is gathering momentum as the Hamefarin gets closer. Exiles from all over the world are providing Ann Hill in Dumfries with their own personal blocks representing their interests and connections with Shetland. Ann is putting the blocks together to form a quilt which will be presented to the people of Shetland at a ceremony during next year's Shetland Hamefarin.
Ann said "This is proving to be a really popular project. I had assumed I might get a dozen 10" blocks and that I would make it into a decent sized wallhanging - but now it's going to be a lot bigger than that. Folks from all over the world are sending me blocks and some folk are just turning up on the doorstep. Ofcourse being a Shetlander they are met with 'you'll be staying for your tea' so I am making lots of new friends and renewing some acquaintances."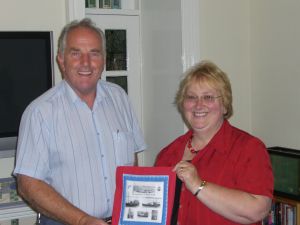 John Winston Leask was one of the visitors to Ann's home in Dumfries to delivered his Hamefarin quilt block personally. He said "I come from a family who, for many generations, have been fishermen. The block represents almost half a century of evolving progress in fishing vessels and methods from the last century. The four boats depicted were owned and skippered by my late father (John William Leask) over that period."
Ann contunued, "The stories are fascinating and very diverse. Hopefully we will get them put together for a book to accompany the quilt. I know that many of those contributing are really looking forward to coming home and enjoying themselves during the two week festival - I know I am!"
Anyone who wishes to take part in the project should have their 10" quilt block to Ann Hill, Mouswald House, Mouswald, Dumfries, DG1 4LT by 30 November 2009. Further instructions can be found on Ann's website www.annhillquilter.co.uk.