1985 Shetland Hamefarin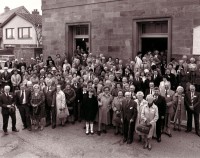 Planning for the 1985 Hamefarin began in 1981, when Dr. Tom Anderson and Mr. Maurice Mullay noted the passing of the 20th anniversary of the previous Hamefarin, and agreed that the 25th anniversary would be the ideal time for a restaging. The idea was endorsed by Shetland Tourist Organisation and a committee was formed to organise the Shetland Hamefarin 1985, with the Lord Lieutenant Magnus Shearer as president and Mr. Mullay as chairman.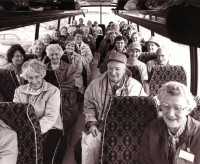 All over Shetland community councils and local organisations put a great deal of time and effort into planning events for the Hamefarers. The visitors would have a very tight schedule, and each area of Shetland involved had a special day set aside, so there were 'Hamefarin days' in Unst, Yell, Burra & Trondra, the West Side (including a trip to Foula) and Delting, in contrast to the rather more centrally-based activities of the previous Hamefarin.
The Hamefarin was reckoned to be an important marketing opportunity, and it was 'branded' with a specially designed Shetland Hamefarin 1985 logo, and many local businesses took the opportunity to advertise in The Shetland Times' special pull-out feature. There was even a special Hamefarin ale brewed to commemorate the event.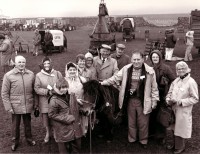 More than 500 Hamefarers attended the week's celebrations. Although billed as the return of exiles from across the globe, around half of the Hamefarers were from England, Scotland and Wales. Of those who had declared their intention to attend with the Hamefarin committee (some turned up unannounced) seventy-four were from New Zealand and twenty-eight were from Australia. As with 1960, there were those who were returning and those for whom this was their first visit to Shetland, and again there was a large age range – from eight-month old New Zealander Julia Inkster to 87-year-old Jock Jamieson.